As a key supplier of Engineering Components or Automotive Parts, you need to be sure you can get your customers' critical components into their manufacturing location on time and to specification.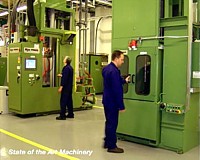 Here at Ajax TOCCO we understand that, and we've invested over £2 Million in a purpose built Induction Service Centre that gives you access to one of the largest induction processing and commercial heat treating facilities in Europe operating 17 purpose built systems around the clock.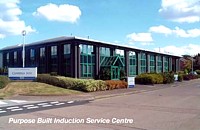 This is the heat treatment facility you would have if you were designing it yourself...without the needto employ metallurgists, build and run a lab or employ designers...and reducing your investment in capital equipment, running costs and premises, which means you can focus on your core competencies.
At Ajax TOCCO you'll find on-site specialists who will take care of everything for you and ensure your work is taken through an agreed quality control plan to ISO 9001 / 2000, which means you'll have complete peace of mind.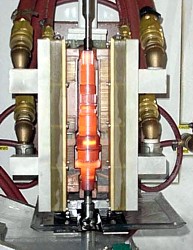 1. You can dramatically reduce your investment in capital equipment and running costs because our purpose-built, Sub-Contract Heat Treatment facility has state-of-the-art equipment ready to process your parts.
2. We will help you to keep your work in progress to an absolute minimum because we will provide you with a target 3-day turnaround.
3. If you need to heat treat a new component, our inductor design specialists and metallurgists will develop a process to apply the heat pattern required in the most time efficient and cost effective way.
4. Every system used has continuous process monitoring, so at each step your part is quality monitored, which means our components will be consistently and accurately treated every time.
5. For your high volume production requirements we have dedicated customer cells, which are designed for the specific part profile and provide you with an extention to your own operation on our floor.

Induction Heating Power Supplies
1 x 250kW, 10kHz
2 x 300kW, 3 / 105Hz
1 x 150kW, 10 / 25kHz
3 x 150kW, 3 / 10kHz
1 x 40kW, 280kHz
3 x 50kW, 280kHz
1 x 80kW, 350kHz
1 x 120kW, 30 / 70kHz
1 x 25kW, 10 / 50kHz

---
Process Fixtures
3 x Rotary Tables 4 & 6 positions.
2 x Special Purpose Single Shot Machines
1 x Horizontal Pusher Machine - 2000mm
2 x Twin Spindle Vertical Shaft Hardener - 1500mm
2 x Single Spindle Vertical Shaft Hardener - 2000mm
1 x Single Spindle Vertical Shaft Hardener - 1500mm
1 x Single Spindle Vertical Shaft Hardener - 1000mm
1 x Single Spindle Vertical Shaft Hardener - 750mm
1 x Single Spindle Vertical Shaft Hardener - 600mm
1 x Twin Spindle Vertical Shaft Hardenter - 600mm
1 x Single Spindle Vertical Shaft Hardener - 500mm
1 x Crankshaft Hardening Machine - 2000mm

---
Quench Media
Water and Water / Polymer

---
Tempering Furnaces
3 JLS Gas fired Ovens to 550C

---
Fixture Capability
Max Heat Treated Length - 2 metres
Max Total Length - 2.2 Metres
Max Gear / Roll Diameter - 500mm
Max Shaft Diameter - 250mm
Max Weight - 500kg

---
Quality Assurance Facilities
Water-cooled Sectioning
Full Metallographic Facilities
Vickers Hardness Testing
Rockwell Hardness Testing
Magnetic Particle and Dye Penetrate Testing