Like many companies, yours may be striving to comply with ISO 9000 / 2000 ... and with the emphasis being heavily weighted towards Customer Satisfaction; this is not always as straightforward as it could be.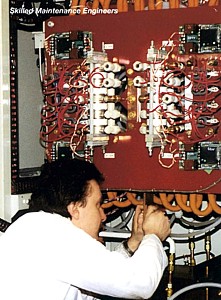 You need to be able to show that you have installed a planned programme to ensure efficient and effective running of your equipment, that allows for equipment assessment and preventative maintenance which will enable you ro meet your Health and Safety obligations. Preventative maintenance starts with...

An ECG for your equipment?
The key to keeping your equipment running reliably is the ability to carry out regular and thorough diagnostic checks to identify potential faults. That's what our dedicated service team will do for you. Every Service Engineer carries the very latest diagnostic equipment, including an Oscilloscope, which will give you a detailed wave pattern printout to show exactly what condition your equipment is in ... It's like giving your equipment an ECG.
Then, using a laptop computer, loaded with bespoke programmes, your Service Engineer will be able to swiftly and accurately identify any parts required from design drawings.
Pre-visit analysis for fast treatment...
Before your Service Engineer visits you, they will carry out an analysis of the advised problem through comparisons with similar problems and equipment from our extensive Service and Warranty database.
Then, they'll prepare a selection of spare parts to bring to your site, which means you'll have the best chance of a speedy resolution to your breakdown.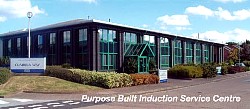 If, for any reason, we are unable to effect repair to your failed equipment, we'll do whatever it takes to find a replacement for you. Should the delivery time of the replacement jeopardise your production schedules, we'll arrange to have your parts heat treated for you until you're back in production again.
5 Reasons You Should Choose Ajax Tocco...
Equipment Design If you have components that need hardening or tempering, simply bring them to us and we'll work with you to design either an in-line process or custom built equipment to integrate within your own in-house cellular production facility.


Inductor Coil Design and Manufacture When you design a new part, bring it to our specialist team with full details of the heat pattern you require and we'll create a bespoke Inductor Coil that will precisely apply the exact heat profile to your part with maximum efficiency.


Commercial Heat Treatment Bring your components to us and we'll take care of everything for you so you'll have no need to invest in capital equipment or employ a skilled workforce, which means you can free-up your financial, time and human resources.


Service Multiple locations assure you of fast response times so your key equipment is never out of action for any longer than is absolutely necessary, keeping your production flowing, your customers happy and your profits up.


Parts We offer you replacement parts and spares for most makes of induction heating equipment, with a UK inventory alone of £750,000 of stock items, so you should always be able to get the right part ... whenvever you need it.

Guaranteed Preventative Maintenance, Service and Emergency Breakdown Contracts That Could save You Money by Reducing Service Costs and Downtime.